Brunch ⬩ Dinner ⬩ Cocktails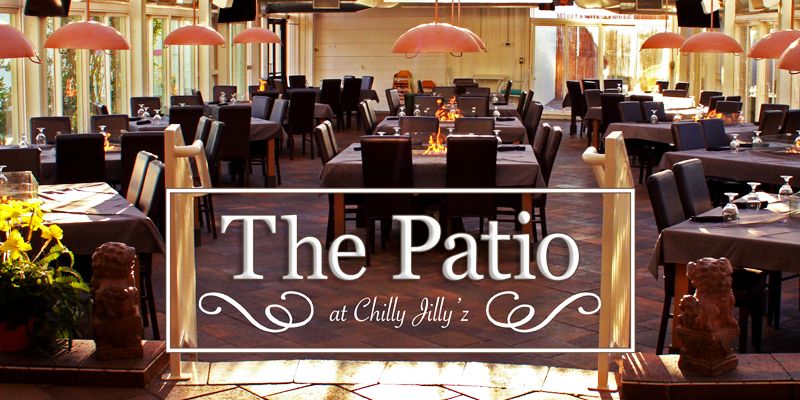 The Patio At Chilly Jilly'z
We provide an amazing brunch and dinner in a unique outdoor atmosphere with fire tables and live music. We also have an indoor dining area for the inclement weather days. Our brunch is every Friday, Saturday and Sunday 8am to 1:30pm. Brunch has a wide variety of choices from our one of a kind Carnitas Eggs Benedict with homemade cheesy jalapeño cornbread to our ULTIMATE Patio Bloody Mary with shrimp and peppered bacon! Our dinner is every Friday and Saturday from 5pm to 9pm. Dinner is a gourmet fine dining experience with a full wine list. Be sure to come on Fridays for our special homemade clam chowder! The Patio at Chilly Jilly'z has everything from perfectly cooked Choice Black Angus filet, salmon, halibut and Chilean Sea Bass to chicken, pork chops and a variety of pasta dishes.

Our Menus
Our chef offers an incredible menu with a wide variety. All dishes are made with fresh ingredients and homemade recipes.
"We absolutely love the fresh food at Chilly Jilly'z. We love the nice people that work there and the restaurant is always clean. We also enjoy dining on the patio for brunch on the weekends. The drive-thru is so convenient and so is the food delivery service. We have also used Chilly Jilly'z for specialized catering. The owner is a positive force of nature."  - Roxanne Dey
Hours
Brunch – Fri-Sun: 8am-1:30pm
Dinner – Fri-Sat: 5pm-9pm

" I honestly can't say enough good things about it."
It was the perfect start to the New Year. I had not had eggs benedict in a very long time and they were perfect. My husband had the pork chile verde omelet and said it was the best he has ever had. WOW so good! Just a lovely brunch and the "fire" tables were beautiful. Our waitress was so polite and efficient.
- Robin G.